$29.99 each
(Plus taxes and shipping. See checkout for complete details)
Bedtime can be scary for children and adults. But it doesn't have to be.
Snuggle Monster Hide & Seek Bedtime is a nighttime storybook, lovable plush sleep companion and a shared family game all in one. Turn the fear and fuss of bedtime into fascination and friendship with a fun new bedtime routine your kids will love. Each night before bedtime, hide your child's Snuggle Monster somewhere in the bedroom. Get creative! When it's time to calm down, read the Snuggle Monster story together, reminding your kids that Snuggle Monsters are afraid of light but great pals in the dark. Once you're done reading, it's time for your children to find their hidden Snuggle Monster. And once they've found it, it's time to tuck in together and go to sleep. Pretty soon, they'll be wondering, "Where's my Snuggle Monster tonight?" Say goodbye to bedtime resistance as your child eagerly welcomes a new nighttime ritual. Make bedtime a shared adventure, and rest easy knowing your snuggle monsters have a Snuggle Monster of their own.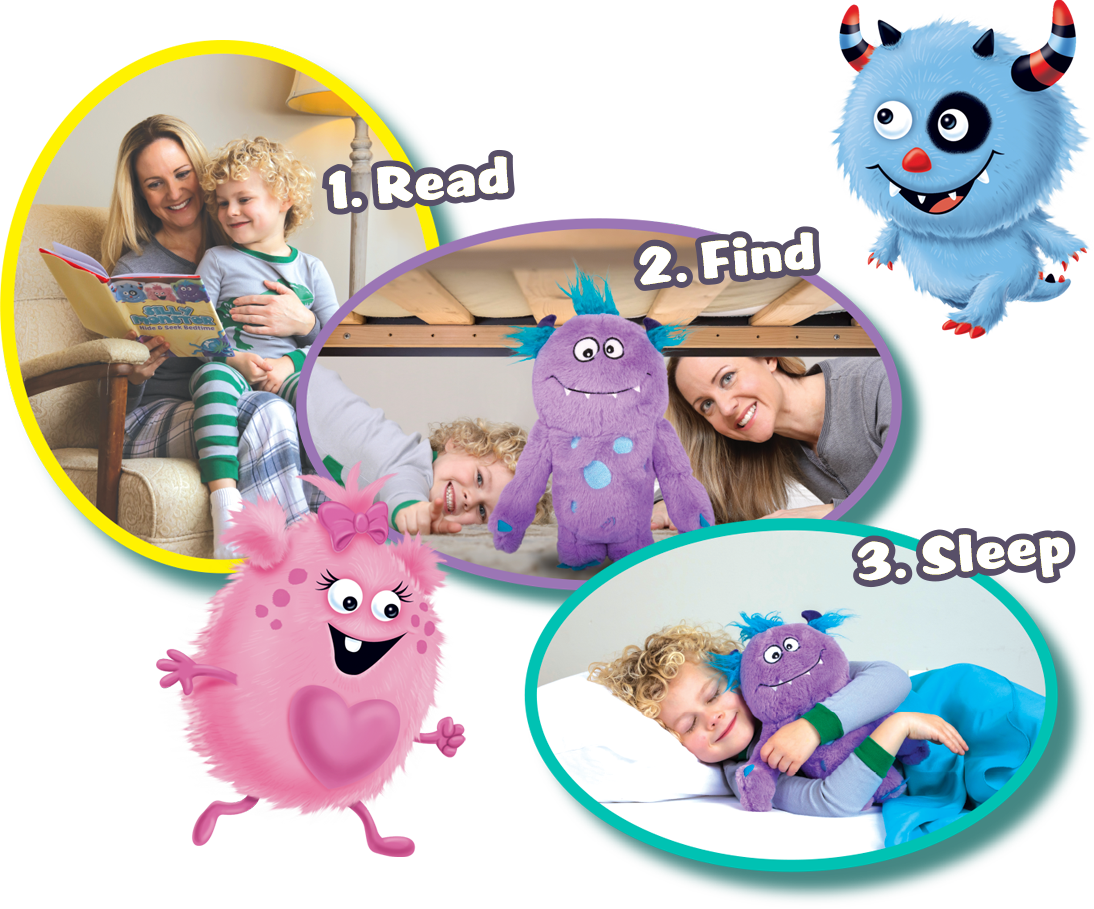 a note from the author & inventor
Snuggle Monster Hide & Seek Bedtime™ was created to help parents get their children to bed with no fuse.  I'm the author of the book and inventor of the product.  I had four children and none of them every wanted to go to bed.  They would resist going to their room. They would get out of bed after being put down.  No matter what I tried, bedtime was always a struggle.  But what I learned over time was that when I "transitioned" my child to bedtime, giving them some sort of warning that bedtime was coming, and coupled that with one last fun thing we'd do before bedtime as part of the transition, it changed things significantly with my children.
Snuggle Monster Hide & Seek Bedtime is a transition tool that uses what I learned from my experiences as a parent of four children who all resisted bedtime. 
When you open your product, the first step is to introduce your child to their Snuggle Monster and read them the story book.  Build things up that this is something special and they are going to meet a very special monster that is to live with them in their room (after all, everyone has at least one monster in their room). 
The story book tells the story about how Snuggle Monsters are silly creatures that hide under your bed and in your closet because their eyes are made for night time and they can't see in the light.  That makes light feel like dark to them so they are afraid of the light and they hide away during the day. But each night, it is your child's job to find where their monster is hiding in their room and let them know it's okay to come out and snuggle with your child during bedtime.  The story book asks your child to name their Snuggle Monster, their very own special bedtime creature. 
Once the child knows the story, and has met their monster, the game can begin.  Each night before bedtime, the parent hides the Snuggle Monster away in the child's bedroom.  When it is bedtime, the parent lets the child know, "it's time to find your Snuggle Monster."  This is a very different message than stating that it is time to go to bed.  Going to bed interrupts whatever fun the child may have been having and could lead to resistance.  But searching for a Snuggle Monster creates the opportunity for the child to "transition" to bedtime.  They will come to understand that bedtime is coming, but they have one more fun activity to do before going to bed.
The child then searches their room to find their Snuggle Monster.  This gets them to their room with excitement rather than fuse.  They search everywhere, try to get creative and vary your hiding places.  Once they find their monster, it's off to bed with their cuddly pal.  If the child likes, read them the story each night to help them settle down with their monster. 
Watch it work like magic.  Your child will come to associate this fun game with bedtime and will be off to bed with no fuse.  It incorporates a strong transition tool with a fun activity, the formula I found success in getting my children to bed.
I love to hear from parents who have used Snuggle Monster to help solve this problem.  Or if you've used other creative ways to get your kids to bed, I love to hear your stories.  Please email me using our contact form to share your experiences. I may choose to share your experiences with our Snuggle Monster online community giving your credit with your first name and town – let me know if you do not want your name included in your story.Thanks for reading about Snuggle Monster Hide and Seek Bedtime, the product that turns the struggle into a snuggle™.   
~ Greg Hughes
Author and Inventor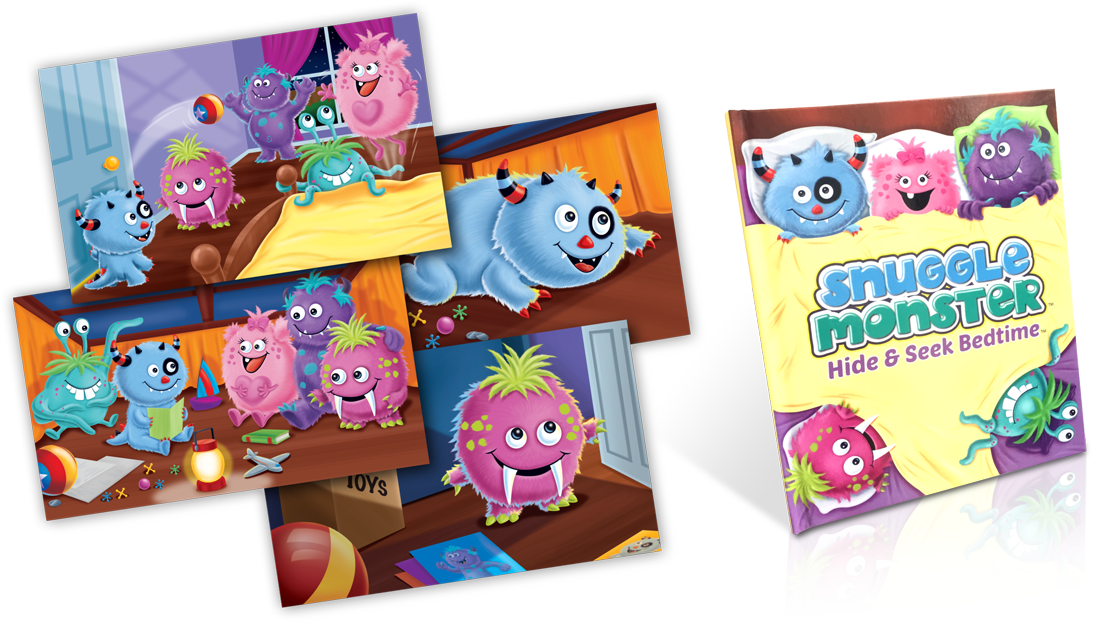 Snuggle Monster Hide & Seek Bedtime is US$29.99 each plus taxes and shipping which are calculated at checkout. We are only able to ship to address in Continental USA and APO/FPO/DPO.
RETURN POLICY: Retail Store Purchases should be returned to the store where purchased.
Web Orders placed at SnuggleMonster.com or ContinuumGames.com come with 30-Day Money Back Guarantee (less shipping) unless defective.
Please contact us for a return authorization number and ship to address.
Be sure to include your order confirmation or receipt or packing list, name, address, daytime phone and email address inside the return package